UTSA is crossing the Mississippi River for the second time this season, this time for a game against the Memphis Tigers. Both teams will enter the game with 3-0 records. What will it take for the Roadrunners to move to 4-0?
Contact Us | Refer-a-friend Promo
One week after coming three and a half minutes short of a second straight shutout victory, the UTSA Roadrunners are packing the 2-1-0 Triangle of Toughness and hitting the road to the Volunteer State.
This weekend the Roadrunners are bringing their 3-0 record to the Liberty Bowl Stadium in Memphis where the host Memphis Tigers also claim ownership of a 3-0 record. A fourth win will be up for grabs for both teams. The game is scheduled to start at 2:30 p.m. and will be shown on ESPNU.
UTSA will fly to Memphis for the game but for those who might want to go the old fashioned route, the drive from the Alamodome to the Liberty Bowl is just 731 miles in a northeasterly direction. It's about the same distance from the Alamodome to New Mexico Stadium in Albuquerque (Site of UTSA's first bowl game appearance). The drive from San Antonio to Memphis, if stretched along I-10 in Texas would get you from the Sabine river to 150 miles east of El Paso.
For those reading this in Memphis, if you wanted to go 731 miles to the northeast you would end up in Washington, Pennsylvania, about 30 miles southwest of Pittsburgh.
There are a lot of similarities between these two schools and the cities they are located in. Both schools have multiple campuses located in and around their home city. Both schools play in a stadium about two miles from one of their campuses.
Both Memphis and San Antonio are the second largest cities in their states and both are known for famous musicians and good barbecue. One famous musician even has ties to both cities. Johnny Cash recorded his first record in Memphis and served in San Antonio when he was in the Air Force.
If this game were to have a name, the Johnny Cash Bowl has a good ring to it. Now without further ado let us all fall in to a burning ring of fire, namely this game.
While UTSA has only been around since the late 60s, Memphis goes back to the early 20th century. When it first opened in the fall of 1912, Memphis was named the West Tennessee Normal School. The same state legislation that created Memphis also created Middle Tennessee, UTSA's opponent last week.
West Tennessee Normal School became West Tennessee State Teachers College in 1925. That name lasted until 1941 when it became known as Memphis State College. In 1957, Memphis State College became Memphis State University and in 1994 the name changed again to University of Memphis.
Memphis has fielded a football team since 1912, aside from the years of World War II. The team had no name until 1914 when Tigers was first used. It became the official name in 1939. Prior to that 'Tigers had been interchangeable with 'Blue and Gray Warriors' which was quite a nickname. Memphis chose blue and gray as school colors when it was founded as a way to symbolize the reuniting of the states after the Civil War.
All-time the Memphis Tigers are 513-521-33. Memphis has made 14 bowl games in its history, 12 of those having been in the 21st century. The Tigers have made seven straight bowl games dating back to 2014. Since 2011, the first year of UTSA football, Memphis is 77-53. More than half of those losses in that time came in the three seasons of 2011-13 when Memphis was 9-27.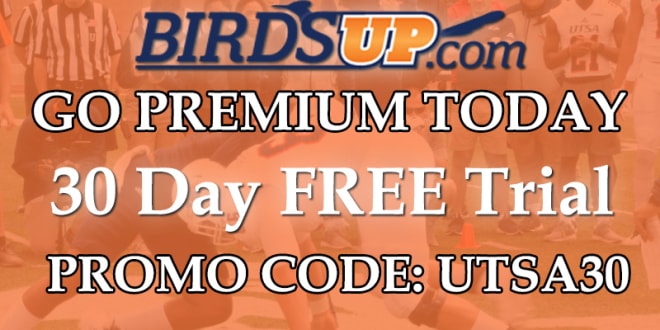 UTSA and Memphis: A comparison
Two teams so alike in many ways
UTSA and Memphis will hit the field at the Liberty Bowl this Saturday afternoon with both teams sporting 3-0 records. Memphis has scored 128 points through three games and given up 96 points. UTSA has scored 118 points and given up 43 points. The Roadrunners recently had a stretch where they went nearly two whole games (118:27 of playing time) without giving up any points.
Memphis opened the season with a 42-17 win over Nicholls State. A week after that they claimed the Paint Bucket by beating rivals Arkansas State, 55-50, on the road in Jonesboro. Last week the Tigers beat Mississippi State 31-29 in the Liberty Bowl.
The Tigers offense has 1518 yards of total offense through their three games for an average of 504.3 per game. The Blue and Gray defense has given up 1448 yards to their opponents this season, an average of 482.7 per game.
UTSA counters with an offense that has 1376 total yards (458.7 per game) and a defense that has given up 733 yards to opponents (244.3 per game).
Most of Memphis's yards have come in the passing game. The Tigers have 841 yards through the air (280.3 per game) and 672 on the ground (224 per game). The Tigers three opponents have combined for 1200 yards passing (400 per game) and 248 yards rushing (82.7 per game).
The Roadrunner offense has 878 yards passing (292.67 per game) and 498 yards rushing (166 per game). UTSA's defense has allowed 490 yards passing (163.33 per game) and 243 yards rushing (81 yards per game).
Memphis QB Seth Hennigan has accounted for all of the Tigers passing yards on 57 completions out of 93 attempts. Hennigan has thrown eight touchdowns and one interception. The Tigers leading receiver is Calvin Austin III who has caught 21 passes for 391 yards and six touchdowns. Brandon Thomas leads the Tigers rushing attack with 421 yards and three touchdowns on 50 carries.
UTSA has had four different players attempt a pass (three quarterbacks and a trick play attempt by Brendan Brady). Frank Harris leads the Roadrunners passing with 662 yards, three touchdowns and two interceptions thrown while completing 57 of 86 pass attempts. Zakhari Franklin has led the Roadrunner receivers with 22 catches for 346 yards and three touchdowns. Josh Cephus has caught 20 passes for 208 yards and a touchdown.
Sincere McCormick continues to lead the UTSA running back. Even though he hasn't had his breakout game this season and his longest run is just 18 yards, McCormick has 268 yards and two touchdowns on 61 carries.
When it comes to turnovers the Tigers have thrown one interception and lost two fumbles. Their opponents have thrown one interception and lost one fumble. UTSA has thrown two interceptions (both last week) and lost two fumbles. The Roadrunner defense has intercepted one pass (last week) and recovered four fumbles.
On special teams Memphis has punted the ball 10 times for 455 yards. UTSA's Lucas Dean has nine punts for 387 yards. Memphis has attempted seven field goals and made six of them. UTSA is 9-for-11 on field goal attempts. Hunter Duplessis has made eight of 10 field goal attempts. Everett Ornstein got to try a field goal in the win over Lamar and converted it.
In the return game Memphis has 193 yards on seven kick returns and 103 yards on three punt returns. UTSA has been able to return two kickoffs for 65 yards. The Roadrunners have 164 yards on nine punt returns.
Prediction time
UTSA opened the week as five point underdogs. That line then moved to UTSA as three point underdogs. The Liberty Bowl will be a tough environment for the Roadrunners but they have already experienced one tough environment this year in Champaign, Illinois.
Memphis is probably a better team than Illinois but UTSA has gotten better each week. In order for UTSA to move to 4-0 for the first time since 2012, they will need a complete effort from all three points of the Triangle of Toughness.
The offense will need to cherish the ball like it is the winning lottery ticket. The defense will need to make the Tigers uncomfortable enough to cause mistakes. On special teams the Roadrunners will need Dean and Duplessis to be their normal selves.
This game has all the makings of a classic that entertains everyone who watches it on TV or in the stadium. Whether they are Roadrunner fans, Tigers fans or casuals just looking for something to watch in the afternoon, this game should keep the attention of all. I can see this being a contest where turnovers might mean the difference or just having the ball last might be the key to either team claiming their fourth win of the season.
I don't think this one is going to be easy on the hearts of either fanbase and will probably come down to the very end. In the Alamodome Audible podcast earlier this week I said it would end on a Hunter Duplessis field goal as time expired. I'm sticking with that pick but I think there will be some points put up by both teams.
My pick: UTSA 31 Memphis 28
FORUMS: UTSA Boulevard | Roadrunner Way