#1 Purdue is back on top the AP Poll while Michigan barely handled Minnesota at home.
Will Jett Howard be available for Michigan when Purdue comes to town Thursday?
In a 9:00 pm game, Purdue will try to avenge a 24 point loss in Ann Arbor last season by taking on a Michigan team desperate for a big win. Purdue comes into the game as the only 1 loss team in major college basketball, a 19-1 record, and a 2 game lead in the Big Ten. Michigan is 11-8 but with a 5-3 record in the Big Ten that has them third in the conference.
But Howard rolled his ankle in Michigan's last game and was last seen in a walking boot. Hunter Dickinson has saved his best basketball for Purdue in his career, but Purdue's Zach Edey has been the best player in the country.
It will be a battle of the big men as the Boilermakers try to stay ahead of Alabama as the nation's best team and get their 25th Big Ten Championship. Michigan will try to get their first statement win of the season and cement their place for Selection Sunday.
It is Purdue and Michigan's only regular season matchup.
Injuries Mounting
First it was Jaelin Llewellyn, the Princeton transfer that Painter wanted at Purdue, going out with a torn ACL. The experienced point guard's counting stats weren't gaudy but he was a stabilizing force for the Wolverines, and a well balanced guard capable of creating his own shot and shots for others. He's now gone for the rest of the Wolverines season.
Now it's arguable their best all-around player, Jett Howard, and likely one and done NBA draft pick next year, is possibly sidelined with an ankle injury for Michigan's biggest game. Howard is also the head coach's son, adding an extra layer to the rest and recovery complications after Howard went down against Minnesota with an apparent ankle that had the freshman in a boot after the game.
Howard's scoring over 14 points a game while shooting 38% from three. His length and athleticism is a key cog in a team not exactly lighting the season on fire with him in the starting lineup. In the game he was injured, Michigan only mustered 23 points in the first half against Big Ten's worst team, tying the Golden Gophers at half before separating just enough to win 60-56.
Can an injury spur Michigan into a next man up mindset or is this another potential tripping hazard for a Michigan team with a disappointing 11-8 record?
It's still unclear if Howard will be available Thursday or not, but even if he plays, it'd be a lot to expect him to be 100%.
Big Dicki
Hunter Dickinson is… one of college's most interesting big men.
He's remarkably similar to the player he was last year statistically:
Dickinson is as known a quantity as there is in the Big Ten. He was a nightmare for Purdue last season.
Dickinson prefers to play from the block but his passing and occasional three-point shooting allows him to step outside. Something Purdue is all too familiar with. In Big Ten play last year, he was just 13 of 44 from three, but against Purdue, he made 6 of 9 attempts in just two games.
He dropped 28 at Mackey Arena in a loss and then 22 points in Michigan's blow out of Purdue in Ann Arbor. It's no secret that Purdue's game plan starts and ends with dealing with Dickinson.
"It starts with Hunter Dickinson and just that matchup, you know? Just how good of a passer he is and his basketball IQ and his ability to rebound, just make winning plays. He's a really good player," Matt Painter said ahead of Purdue's trip to Ann Arbor.
Stopping Dickinson is a next to impossible task, but Purdue will look to attack him on the other end to make his job more difficult on the court.
"I think that's anytime you play against a quality player like Hunter, they're playing against Zack, you want to make him be able to defend. You want to get him, whether that's low post or that's playing him in ball screen stuff. You just want to make them [defend] and hold them accountable," Painter said when asked about attacking Dickinson at the other end of the floor.
Naturally, this is a game where Zach Edey and Hunter Dickinson square off as two of the best big men in the nation. It'll be another test for Edey after already having faced and vanquishing Drew Timme in Portland.
"When you play against those high caliber bigs, and they're great bigs and there's a lot of them. But I mean playing against certain teams, you get more excited for them," Edey said about his matchup with Dickinson.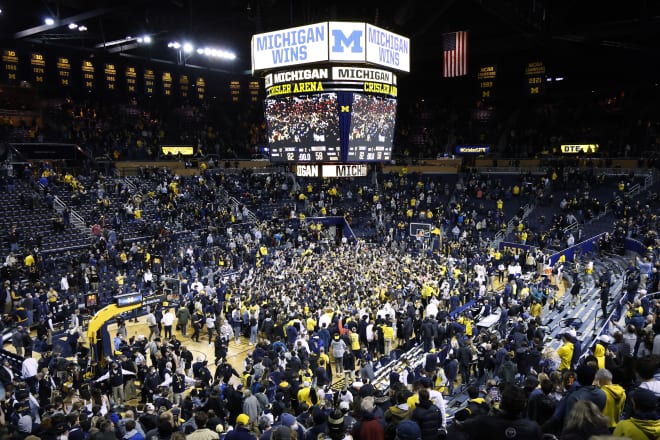 Ghost of Blowout Past
Purdue's 24 point blow out loss to Michigan last year was as shocking a defeat as Painter has had in his 18 season tenure with Purdue as the head coach. Despite national championship aspirations, an NBA lottery talent, and a team that won a whole lot of games, Purdue was never in the game in Ann Arbor.
Painter has had worse losses but 20+ blow outs are few and far between. His Boilers lost at Illinois on January 20, 2020 in a down season. Before that, you'd have to go all the way back to 2013 to find a conference opponent beating Purdue by more than 24 points.
Will this Purdue team take it personal? They've yet to lose on the road this season, including impressive neutral court wins, and going into East Lansing and beating Michigan State on the final possession.
Michigan might be short-handed but Dickinson has thrived against Purdue. Ann Arbor has not been hospital for Purdue. They've lost the last three at Michigan and haven't won there since 2017.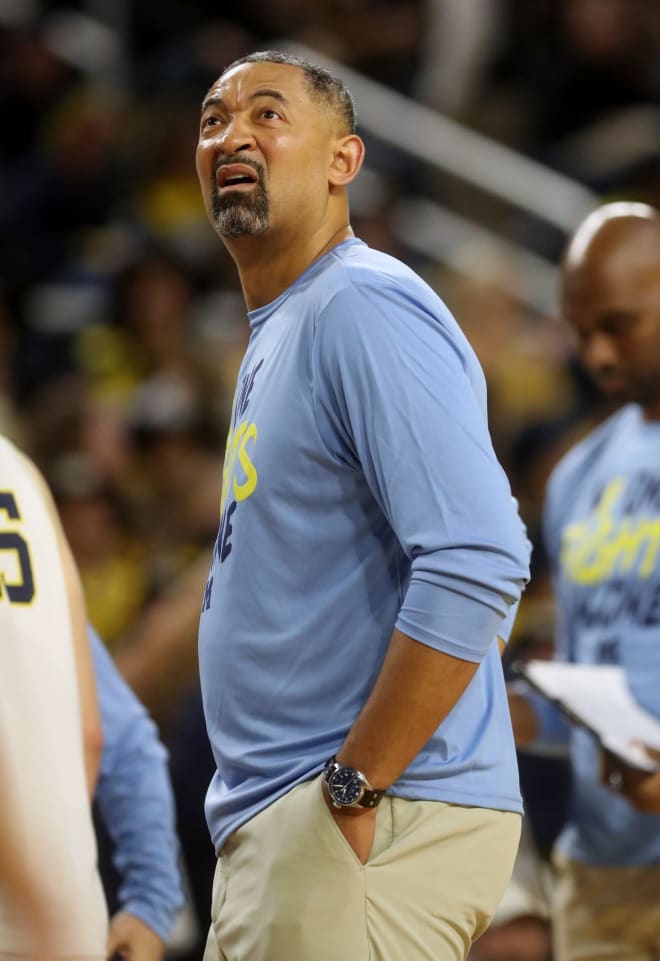 Michigan's Season
If the season finished today, Michigan would finish the Big Ten in third place. They'd also probably find themselves on the wrong side of the bubble. Their 5-3 record in the Big Ten hardly covers up for a disappointing 11-8 overall record devoid of any statement wins.
The Wolverines best wins have come at home against Maryland and Penn State, and they have no other top-50 wins on KenPom.
They've lost big to Arizona State on a neutral floor, and inexplicably to 315th ranked Central Michigan at home, 63-61. They have just one win on the road against the lowly Minnesota Golden Gophers, who nearly pulled off the upset in Ann Arbor, in a 60-56 rock fight.
Michigan has been a middling team on both sides of the ball, with the 53rd best offense and 77th best defense according to KenPom. They've shot the three at 34.5% while defending it at a 31.2% clip. They've struggled to control the defensive glass, something Purdue has dominated this season. Purdue starts the best offensive rebounder in the country, Zach Edey, and the 18th best in Caleb Furst. Together, they're grabbing 36.7% of Purdue's misses.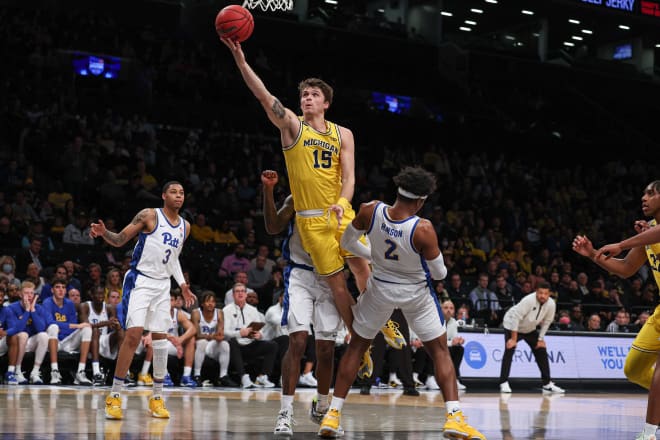 Baker Rising
Joey Baker is Juwan Howard's only senior and took over Jett Howard's spot in the rotation against Minnesota when Howard went down with his ankle injury. If he steps into the starting lineup, he will try to give the Wolverines a spark at the three-point line.
The Duke transfer has fired off 46 three-point attempts in just 273 minutes of action on the season. He's making 43.5% of his attempts.
At 6-7 he provides unique size to go with his shooting. Purdue will attempt to run Baker off the line and force him to dribble, pass, or do anything else on the floor. He's shot just 25% from inside the arc, including a surprising 62% from the line and is not a natural passer or play maker.
Howard's injury will limit Michigan's versatility on offense against a Purdue defense that is playing its best basketball of the year. Purdue is now 16th in KenPom's defensive efficiency ratings. Teams are an 18th best, 29.1% from three against Purdue while Purdue gives up the least amount of free throws per shot attempt in the country.
Purdue's defense is manufactured to force the toughest looks on the court and for the last month, they've really ramped up their intensity.